My decades spent nestled in the vibrant world of hotel tech have afforded me a wealth of knowledge and insight that I'm here to share with you today. I'm exploring Hoteza, dissecting its features, strengths, and areas that may warrant a second thought. In the folds of this review, you'll find detailed, unbiased insights that aim to equip you with everything you need to discern if Hoteza aligns with your hotel's intricate needs.
With a meticulous eye, I've scrutinized this software, ensuring every pertinent detail finds a home in the forthcoming evaluation. So, let's embark on this journey together, navigating through the detailed landscape of Hoteza with clarity and expertise.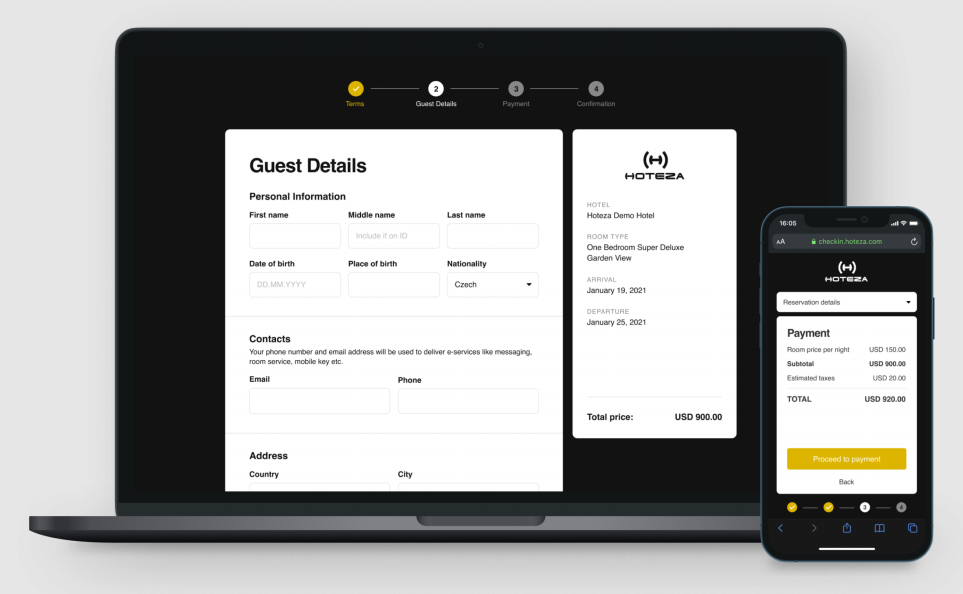 Hoteza Product Overview
Hoteza crafts a streamlined guest experience through its innovative hospitality software, encapsulating solutions like Hoteza HSIA, ensuring reliable high-speed internet access through Wi-Fi, and digital platforms Hoteza Mobile, IPTV, HotSign, and Hoteza TV, all designed to facilitate a smooth connection between hotel amenities and guest devices.
Tailored to cater to hoteliers — from small establishments to luxurious chains — it presents a holistic digital interface that hosts a suite of services, enabling guests, via their iOS or other devices, to effortlessly navigate through options like room service from the hotel restaurant, direct communication pathways to the general manager, and accessible information like the hotel's phone number or their room number.
The solution not only elevates the guest experience by providing easy access to services via the HotPad but also meticulously addresses pain points around operational efficiency and guest engagement, ensuring that a hotel's offerings are but a tap away for every visitor. With a focus on enriching both guest satisfaction and operational flow, Hoteza stands out for its integration, utility, and a firm grasp on the digital needs of contemporary hospitality environments.
Pros
Interactive TV: Hoteza's Interactive TV provides guests with a wealth of tailored content and services directly through their in-room TV screen.
Multilingual Support: Hoteza caters to a global audience by offering an interface that communicates in numerous languages, ensuring guests feel seen and understood.
Marketing Tool: The software enables hoteliers to present targeted offers and information to guests, enriching upselling opportunities without being obtrusive.
Cons
Complexity: Some users might find Hoteza's myriad of features a bit overwhelming initially, potentially steepening the learning curve.
Integration Limitations: While robust, the software sometimes exhibits limitations in integrating with certain third-party applications and systems.
Pricing Structure: Small-scale hotels or those with tighter budgets might find the pricing model somewhat restrictive, potentially hindering accessibility for smaller establishments.
Expert Opinion
In my meticulous analysis of Hoteza, this platform appears steadfast in its commitment to delivering an enriched guest experience while simultaneously lightening the administrative load on hotel staff. Evaluating its robust features, intuitive interface, and the breadth of its functionalities against the backdrop of other software in this realm, Hoteza exhibits a commendable performance, particularly in areas concerning guest engagement and service personalization.
However, where it shines in interactive and immersive guest experiences, it slightly falters in aspects of financial accessibility for smaller establishments and integration breadth. Selecting the right tool often becomes a dialogue between desired functionality and budgetary confines; hence, larger establishments and those placing a premium on guest experience might find Hoteza particularly beneficial.
Hoteza: The Bottom Line
What resonates about Hoteza is its pronounced emphasis on crafting an interactive, immersive, and notably personalized guest experience, which, in the teeming sea of hotel management software, is a compelling differentiation. It's not merely a tool; it's a conduit through which hotels can curate, customize, and enhance every touchpoint of a guest's journey, from room controls to content consumption.
This bespoke, tailored approach to guest interaction, particularly through its Interactive TV and guest app, imparts a level of consideration and personalization that's both genuine and technologically advanced, demonstrating a harmonious marriage between technology and hospitality that's quite noteworthy in today's market.
Hoteza Deep Dive
Product Specifications
Guest Profile Management - Yes
Reservation Management - Yes
Direct Booking Capabilities - Yes
Mobile App for Guests - Yes
In-Room Entertainment System - Yes
Task Management for Staff - Yes
Reporting & Analytics - Yes
Event Calendar Integration - No
In-Room Dining Menu - Yes
Spa & Facilities Booking - Yes
Guest Feedback Collection - Yes
Loyalty Programs Integration - Yes
Digital Door Key - No
Check-in/Check-out Process - Yes
Payment Integration - Yes
Marketing Automation - Yes
Personalized Ad Display - Yes
Multi-language Support - Yes
In-Room Control System (lights, temperature) - No
Maintenance Request System - Yes
Room Assignment & Housekeeping - Yes
Invoice & Billing System - Yes
Email & SMS Communication - Yes
Lost & Found Management - No
Group Booking Management - Yes
Hoteza Feature Overview
Guest Profile Management: Hoteza captures and organizes guest data efficiently, enabling hoteliers to customize experiences based on guest preferences.
Mobile App for Guests: Their app integrates the entire hotel experience, from booking to feedback, offering guests convenience at their fingertips.
In-Room Entertainment System: An immersive system that provides guests with curated content, local attractions, and hotel services.
Task Management for Staff: Staff can monitor, prioritize, and execute tasks, ensuring optimal guest satisfaction.
Reporting & Analytics: Dive deep into data with their advanced reporting, gauging performance, and refining strategies.
In-Room Dining Menu: Digital menus that can be updated in real-time, offering guests the latest culinary delights.
Loyalty Programs Integration: Recognize and reward returning guests easily through integrated loyalty programs.
Check-in/Check-out Process: A streamlined process that reduces guest waiting times and enhances the overall experience.
Personalized Ad Display: Present guests with relevant offers, enhancing potential revenue streams.
Multi-language Support: Engage global travelers with a platform that communicates in their language, building trust and satisfaction.
Standout Functionality
Mobile App for Guests: Hoteza's comprehensive mobile app stands out, encompassing every touchpoint of a guest's stay in one intuitive platform.
In-Room Entertainment System: Beyond mere TV, their system acts as an all-encompassing concierge, distinguishing itself by offering an extensive range of services.
Personalized Ad Display: Not many platforms venture into such nuanced advertising; Hoteza does, targeting guests with pertinent offers without being invasive.
Integrations
Hoteza provides native integrations with a range of popular property management systems (PMS). Additionally, they offer an API, giving hotels the flexibility to develop bespoke integrations tailored to their unique needs. A variety of add-ons are available to augment the platform's capabilities, ranging from advanced analytics tools to guest feedback enhancers.
Hoteza Pricing
Pricing upon request
Ease of Use
Navigating Hoteza feels intuitive, with a user interface designed with both hoteliers and guests in mind. While its rich feature set might initially feel overwhelming, onboarding guides simplify the journey. Yet, some complexities arise when trying to harness the full potential of their analytics, which requires a steeper learning curve.
Customer Support
Hoteza boasts a responsive customer support team, accessible via email, live chat, and phone. They provide ample resources, from detailed documentation to webinars.
Hoteza Use Case
Who Would Be A Good Fit For Hoteza?
Hotels that prioritize integrating technology into their guest experience find real value in Hoteza. It tends to attract hoteliers who understand the nuanced wants of a modern traveler - convenience, clarity, and a touch of personalization. Boutique hotels, chains with a modern bent, and establishments where a significant portion of the clientele veers towards the tech-savvy demographic mark some of its most ardent users.
For medium to large-sized teams, where there's a dedicated staff to manage guest relations, IT, and hospitality services, the platform becomes not just a tool, but an ally in delivering stellar guest experiences.
Who Would Be A Bad Fit For Hoteza?
Small establishments, perhaps those with limited staff and resources, struggle to harness Hoteza to its full potential. Bed and breakfasts, small inns, or family-run guesthouses might find it an elaborate, and thereby slightly misaligned, tool for their straightforward needs.
Similarly, enterprises where the team lacks tech-adept skills or where the customer demographic doesn't quite lean towards digital interactions, have experienced a mismatch. In such contexts, the extensive feature set and tech-forward approach of Hoteza may find less applicability and thereby, less appreciation.
Hoteza FAQs
How user-friendly is Hoteza for non-tech-savvy staff?
Hoteza designs its interface to be intuitive but might require a small learning curve for those unfamiliar with digital platforms.
Is training provided during the onboarding process?
Yes, Hoteza usually provides onboarding guidance and has resources to aid the initial setup and utilization.
Does Hoteza support multi-property management?
Yes, it allows the management of multiple properties under a single account.
Is there a contract or minimum commitment period?
Hoteza generally offers varied subscription models, details of which might require direct communication with them.
What integrations does Hoteza offer?
It offers various integrations with PMSs and has an API for custom integrations.
How secure is guest data within Hoteza?
Hoteza emphasizes security, employing measures to protect data, though specifics should be confirmed with them directly.
Can Hoteza handle group bookings and events?
Yes, it supports the management of group bookings and events.
Is there a mobile application available for guests?
Yes, Hoteza offers a guest-oriented mobile application.
Alternatives to Hoteza
Mews: Better suited for smaller establishments due to its simple, intuitive design.
Cloudbeds: Flexible pricing and robust channel manager.
Opera PMS: Provides detailed reporting and analytics tools.
Hoteza Company Overview & History
Hoteza operates within the hospitality industry, delivering a technology-driven platform that aids hoteliers in enhancing guest experiences through digital channels. With usage by an array of hotels across various sizes and styles, it establishes itself as a diverse tool for the industry. The private company, whose HQ resides at an undisclosed location, navigates under the leadership and vision of a team passionate about infusing technology into hospitality.
The mission of Hoteza centers around crafting digitally fluid, integrated, and enriched guest experiences within hotels. Throughout its trajectory, it has consistently aimed to innovate and adapt, ensuring its offerings remain relevant and beneficial in a dynamically evolving industry landscape.
Summary
In navigating through Hoteza's offerings, features, and functionalities, the overarching narrative remains of a tool that genuinely seeks to converge technology and hospitality in a meaningful manner. The breadth of its features aligns significantly with the demands of a digitized guest experience, striking a balance between operational efficiency for hoteliers and enhanced, easy experiences for hotel guests.
Hoteza makes a compelling case for medium to large hotels, particularly those where a tech-forward approach to guest management isn't just a necessity but a core part of their operational philosophy. Navigate towards the comment section, dear readers, and illuminate this discourse with your own experiences and insights into Hoteza. Your voices, juxtaposed against this backdrop of insights, will inevitably craft a richer, more nuanced dialogue for prospective users navigating this digital hospitality landscape.