12 Best Event Management Software
After a meticulous evaluation, I've chosen the 12 best event management software for you. These gems truly address your event planning challenges.
As an event planner, I know what it means to juggle multiple tasks, facing unforeseen challenges head-on while trying to deliver an unforgettable experience. I've spent countless hours evaluating and testing the best event management software solutions available to help you find the tools that truly make a difference.
Event management software takes the chaos out of event planning. From managing event registrations to facilitating seamless virtual experiences, these tools simplify and more streamlined every step of the process. These tools help to enhance the attendee experience, save time, and reduce the stress that comes with managing onsite large-scale events. They also help to make your events more organized and efficient, turning challenges such as participant engagement, event promotion, event timelines, logistics coordination, and event templates into a cakewalk
So, I encourage you to explore these options and find the one that best fits your needs. Give them a look and find your perfect event planning software.
What is Event Management Software?
Event management software is a dynamic tool, designed to ease the task of planning, executing, and monitoring various types of events. This digital solution is ideal for a wide array of users - event planners, corporations, sponsorships, educational institutions, fundraising, exhibitors, and even in-person events.
Users employ this software to streamline logistical tasks such as venue selection, registration, ticketing and ticket sales, and scheduling. Beyond logistics, it also enhances the attendee experience through interactive features, while providing valuable analytics to measure event success. Thus, event planning tools transform complex event planning into a more manageable and efficient process.
12 Best Event Management Software Overview

1. Zuddl - Best for delivering engaging hybrid events with a human touch
Zuddl is an innovative platform that creates an engaging, human-centric experience for your hybrid events. It adeptly blends in-person and virtual interactions to create a seamless hybrid event ecosystem, justifying its tag of being the best for delivering engaging hybrid events with a human touch.
Why I Picked Zuddl:
In my quest for the best event management software, Zuddl stood out due to its dedication to the human element in hybrid events. Its capability to foster authentic connections between attendees, regardless of their location, sets it apart. I chose it as the best for hybrid events because it balances the virtual event platform and physical, ensuring an engaging, humanized experience for all participants.
Standout features & integrations:
Zuddl boasts several noteworthy features, including virtual meeting rooms, an interactive stage, and extensive networking opportunities. It supports live streaming, 1:1 chats, and group discussions, offering a personalized event experience. Zuddl integrates seamlessly with major social media platforms, CRMs, and analytics tools, providing a comprehensive event management solution.
Pricing:
Zuddl pricing starts from $5/user/month (min 100 seats). However, they offer flexible pricing for larger events and enterprises.
Pros:

Supports hybrid events with a focus on human engagement
Offers extensive networking opportunities
Provides seamless integration with various tools

Cons:

Pricing might be steep for small-scale events
A free trial comes with notable limitations
May require a learning curve for first-time users

2. Swapcard - Best for leveraging AI to boost networking opportunities
Swapcard harnesses the power of Artificial Intelligence to transform event networking experiences. It helps you create impactful connections using AI-driven matchmaking, making it a top pick for maximizing networking opportunities.
Why I Picked Swapcard:
In comparing numerous event management software options, Swapcard emerged as a standout with its robust AI-driven networking. I chose it for this list due to its unique ability to foster meaningful connections. This makes Swapcard the best tool for leveraging AI to boost networking, as it optimizes attendee interaction, creating value-added experiences.
Standout features & integrations:
Swapcard's key features include AI-powered matchmaking, messaging feature, notification feature, an intuitive event app, and comprehensive analytics. Its AI technology recommends personalized connections based on attendee profiles. It integrates with various CRM and marketing automation platforms, offering seamless event data exchange.
Pricing:
Pricing details for Swapcard are available upon request, making it necessary to contact the company for exact figures based on your specific needs.
Pros:

Utilizes AI to enhance networking opportunities
Offers comprehensive analytics
Integrates well with CRM and marketing platforms

Cons:

No free plan or transparent pricing is available
Might require some learning to use AI capabilities
Could be more complex than other platforms for basic event management needs
3. Webex Events - Best for secure, scalable global virtual events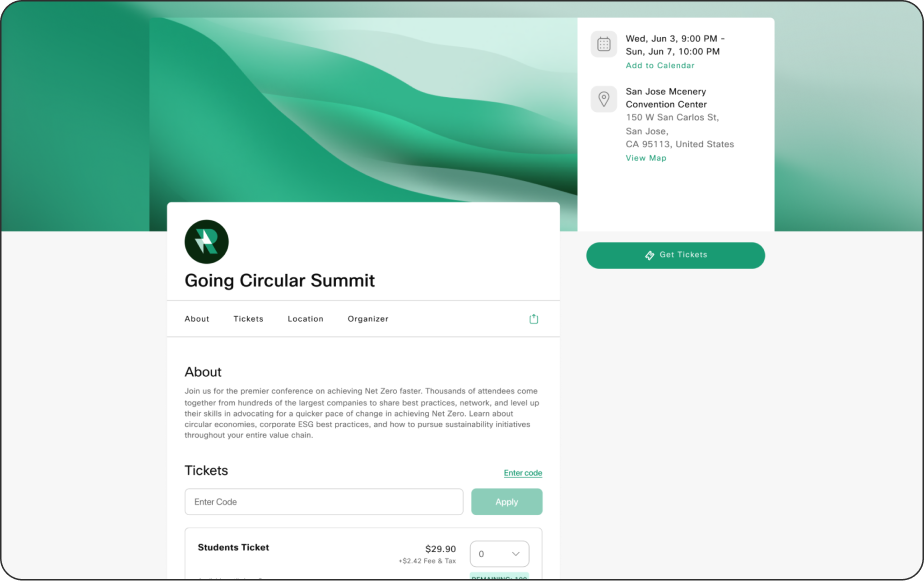 Webex Events stands out as a robust platform that brings together security and scalability for global virtual events. It's designed to handle large-scale, virtual events while ensuring data integrity and protection, making it the top pick for secure, scalable global virtual events.
Why I Picked Webex Events:
When choosing the best tools for event management, I selected Webex Events for its emphasis on security and scalability. Its ability to handle extensive global events, while ensuring top-notch data security, makes it different from the rest. This is why I believe Webex Events is the best choice for secure, scalable global virtual events - it offers both volume and safety, a rare combination in today's digital event landscape.
Standout features & integrations:
Webex Events offers features such as virtual and hybrid event management, video seminars, and advanced security protocols. Its platform supports integrations with marketing automation and CRM software, such as Salesforce, Marketo, and Microsoft Dynamics, among others.
Pricing:
The pricing for Webex Events starts from $14/user/month (billed annually). Additional costs may apply for more extensive event capabilities.
Pros:

Highly secure and scalable
Robust integration capabilities with major software tools
Excellent for large, global events

Cons:

Could be pricey for small-scale events
Advanced features not included in a free trial
Setup may require some technical proficiency
4. Cvent - Best for its robust suite of event marketing tools
Cvent excels as a comprehensive event management platform, equipped with an impressive range of marketing tools to drive a successful event. It offers a complete solution for planning, marketing, and managing both in-person and virtual events, standing out as the best option for event marketing needs.
Why I Picked Cvent:
In the selection process, I had my eyes set on Cvent for its all-encompassing suite of marketing tools. Its standout offerings lie in its advanced marketing features, from detailed event analytics to customizable event websites. That's why I believe Cvent is the best choice for event marketing, because it can take your event promotion to a whole new level.
Standout features & integrations:
Cvent provides robust features like event ticketing, registration, session tracking, and event analytics. It integrates with a host of popular CRM systems, email marketing platforms, and social media platforms, enabling a seamless workflow between your event management and marketing activities.
Pricing:
Cvent's pricing starts at $1,500/year (billed annually). It operates on a quote-based system, so exact pricing may vary based on your specific requirements.
Pros:

Extensive suite of event marketing tools
Great integration capabilities
Comprehensive event analytics

Cons:

No free tier or trial
Pricing can be high for smaller events
The user interface may seem complex for beginners

5. Hopin - Best for recreating physical events in a virtual environment
Hopin provides a platform where users can design online events that mimic the interactive nature of in-person gatherings. Its tools empower you to craft a virtual experience that mirrors a physical event, making it the top choice for reimagining real-world gatherings in a digital space.
Why I Picked Hopin:
I chose Hopin because of its innovative approach to online events. The platform sets itself apart with its ability to emulate real-life event experiences, complete with stages, networking areas, and exhibition booths. That's why I think Hopin is the best tool for recreating physical events in a virtual environment. Its focus on interactivity really stood out to me during the comparison.
Standout features & integrations:
Hopin shines with features such as multi-host capabilities, networking tools, mobile-app feature, cloud-based feature, and interactive sessions. It also integrates with popular platforms such as Stripe, Salesforce, and Mailchimp, providing a cohesive experience across your event management tasks.
Pricing:
Hopin's pricing starts from $99/month, offering a range of different packages to suit various event sizes and needs.
Pros:

Successfully recreates physical events virtually
Variety of integrations with popular platforms
Multi-host capabilities

Cons:

No free plan available
Can be overwhelming for first-time users due to the numerous features
Pricing can be steep for small event organizers
6. Hubilo - Best for integrating marketing automation within events
Hubilo is a comprehensive platform for hosting virtual and hybrid events. It allows event organizers to not only design and manage their events but also integrate marketing automation for a seamless experience. This makes Hubilo particularly useful for those who wish to weave together event planning and marketing strategies.
Why I Picked Hubilo:
I picked Hubilo for this list because of its strong focus on marketing automation within the event platform. It's unique in its ability to combine event management with marketing, enabling event organizers to achieve better engagement and conversion rates. In my assessment, it stood out as the ideal choice for those seeking a unified solution for events and marketing.
Standout features & integrations:
Hubilo offers standout features such as marketing automation, virtual networking lounges, and a unified dashboard for event management. It integrates with a range of marketing tools including Mailchimp, Salesforce, Eventbrite, and Marketo, further solidifying its place as an event platform with robust marketing capabilities.
Pricing:
Hubilo's pricing starts from $100/user/month. Keep in mind that this is the lowest pricing tier, and additional features or increased capacity may come at a higher cost.
Pros:

Integrated marketing automation
Extensive marketing integrations
Unified event management dashboard

Cons:

No free plan available
Higher starting price than some competitors
Might be complex for those seeking a simple event platform
7. Whova - Best for attendee engagement and mobile event management
Whova is a leading event technology platform, offering solutions for both virtual and hybrid events. Its core strength lies in facilitating robust attendee engagement and providing a user-friendly mobile interface for event management, making it an excellent choice for those who prioritize these elements in their events.
Why I Picked Whova:
I selected Whova for this list due to its extensive features that encourage active attendee participation and its superior mobile event app interface for event organization. Whova has received several award-winning titles in the event management software category. Whova's distinct strength lies in its ability to foster attendee engagement, a key determinant of an event's success. The mobile event management capability also stood out to me, as it offers flexibility for planners on the go.
Standout features & integrations:
Some of the key features of Whova include an customizable event pages, check-in options, a floor plan feature, RSVP feature, and networking opportunities through a community board. It also supports integrations with various platforms like Zoom and Vimeo, allowing for a more flexible event experience.
Pricing:
Whova operates on a quote-based pricing model. It doesn't have a standardized pricing structure disclosed, and the cost depends on the specific requirements of your event.
Pros:

Strong attendee engagement features
User-friendly mobile event management
Integration with popular platforms like Zoom and Vimeo

Cons:

No free tier
Pricing is not transparent; you need to request a quote
Might not be the best fit for simple, small-scale events
8. SpotMe - Best for creating interactive, branded event apps
SpotMe is a comprehensive platform that aids in creating highly interactive, fully branded event applications. It is specifically designed to offer personalized and immersive experiences for attendees, making it the go-to solution for event organizers aiming to maintain brand consistency across their events.
Why I Picked SpotMe:
SpotMe caught my attention due to its impressive ability to create custom, branded event applications. This level of customization allows for a unique and consistent representation of the organizer's brand, setting it apart from other event management tools. In my judgment, SpotMe's dedication to interactivity and brand consistency justifies its place as the best tool for this purpose.
Standout features & integrations:
SpotMe stands out with its interactive features like live polling, gamification feature, and a range of networking tools. Furthermore, it integrates with a number of CRMs, marketing automation tools, and learning management systems, including Salesforce, Marketo, and Moodle, ensuring a more streamlined event management process.
Pricing:
SpotMe's pricing is based on the needs of the individual event and they do not publicly disclose their rates. Hence, one would need to contact them directly for a tailored quote.
Pros:

Custom, branded event app creation
Interactive attendee engagement tools
Robust integrations with CRMs and marketing tools

Cons:

No disclosed free tier or pricing
Pricing can be opaque and variable
Can be more complex to use due to the range of customizable options

9. All In The Loop - Best for customizable event experiences sans coding
All In The Loop is a versatile event management platform that offers highly customizable experiences without requiring any coding skills. It makes the process of designing unique, interactive event experiences accessible and intuitive, which makes it an optimal choice for those wanting customization without the technical hassle.
Why I Picked All In The Loop:
I chose All In The Loop for its focus on providing a platform that allows comprehensive event customization without the need for any programming knowledge. This balance of customization and ease of use sets it apart from other tools in the space. In my opinion, All In The Loop is the best tool for crafting unique event experiences without needing to know how to code.
Standout features & integrations:
Key features of All In The Loop include its interactive event app with networking tools, live polling, and Q&A capabilities. The platform also provides robust event analytics to help organizers optimize their events. It offers a range of integrations, with key ones being social media platforms like Twitter and LinkedIn, aiding in social reach and engagement for events.
Pricing:
Pricing for All In The Loop is available on request. They offer tailored quotes depending on the specific needs of an event, making the pricing variable.
Pros:

Intuitive, coding-free customization
Robust event analytics
Good range of social media integrations

Cons:

No publicly disclosed pricing
Absence of a free tier or trial
May require some time to learn due to its wide range of features

10. Swoogo - Best for a user-friendly interface and robust integrations
Swoogo is an event management tool known for its user-friendly interface and robust integration options. It enables event organizers to manage and monitor their events with ease, making it an ideal choice for those who value intuitive design and seamless connectivity with other tools.
Why I Picked Swoogo:
I picked Swoogo for this list primarily due to its blend of simplicity and power. The platform's emphasis on a user-friendly interface, combined with its comprehensive integration capabilities, sets it apart. I believe Swoogo is the best tool for those who seek an easily navigable platform that does not compromise on integration capabilities.
Standout features & integrations:
Some of the standout features of Swoogo include event registration and ticketing, interactive event websites, project management, invoicing features, and a rich analytics suite. It integrates with a plethora of tools, including but not limited to, CRM systems like Salesforce, marketing tools like Mailchimp, and payment processors like Stripe.
Pricing:
Swoogo pricing starts from $200/user/month, making it a more premium option in the event management space. This is the starting price for their 'Lite' plan and increases based on the complexity of the needs and the size of the event.
Pros:

User-friendly interface
Robust integration capabilities
Comprehensive event management features

Cons:

High starting price
No free tier or trial available
Might be overkill for small events or beginners
11. Agilysys - Best for comprehensive hospitality event management
Agilysys is a robust event management solution tailored to cater to the unique needs of the hospitality industry. With its comprehensive suite of tools designed for hospitality management, Agilysys stands out as a go-to choice for organizations in this sector.
Why I Picked Agilysys:
I chose Agilysys for this list due to its comprehensive focus on the hospitality industry. While many event management tools offer broad capabilities, Agilysys has a distinct edge with its specialized features for hospitality-related needs. In my opinion, it stands out as the best tool for comprehensive hospitality event management.
Standout features & integrations:
Agilysys offers a plethora of features including property management, registration forms, inventory and procurement, analytics, and document management. It integrates seamlessly with numerous platforms such as accounting systems, HR systems, and customer relationship management (CRM) tools, to provide a unified event management experience.
Pricing:
The pricing for Agilysys is not publicly disclosed. Given the comprehensive and tailored nature of its services, the pricing likely varies based on specific client needs and the size of the event. For exact pricing, it is best to contact Agilysys directly.
Pros:

Tailored for the hospitality industry
Comprehensive event management tools
Robust integration capabilities

Cons:

No free tier or trial
Pricing is not transparent
Could be complex for small-scale needs
12. vFairs - Best for immersive 3D virtual event experiences
vFairs is a platform that allows you to organize and host online virtual events with an engaging 3D experience. It offers a variety of tools to create a virtual space that closely mimics the physical world, making it ideal for organizations seeking a more immersive digital event experience.
Why I Picked vFairs:
I selected vFairs for this list because of its distinctive capability to provide a 3D virtual environment for events. This feature sets it apart from the majority of event management tools, as it offers a unique, immersive experience for attendees. In my opinion, if you're looking for a tool to create rich, interactive virtual events, vFairs is an excellent choice.
Standout features & integrations:
vFairs provides features like 3D virtual environments, customizable virtual booths, chat and interaction tools, and detailed analytics. It integrates with a number of other tools such as Zoom for webinars, Salesforce for CRM, and Google Analytics for additional event insights.
Pricing:
vFairs does not disclose their pricing openly on their website. Given the highly customizable nature of their service, the cost likely varies depending on the event's needs and size. For accurate pricing information, it is recommended to reach out to vFairs directly.
Pros:

Unique 3D virtual environment
Extensive customization options
Integrates with popular tools

Cons:

No free tier or plan
Pricing isn't transparent
May be more complex than other options
Other Event Management Software
Below is a list of additional event management software that we shortlisted, but did not make it to the top 12. Definitely worth checking them out.
Event Management Software Selection Criteria
In my experience of testing and researching various event management tools, there are key factors to consider that significantly influence the effectiveness and success of the software for users. Here's a rundown of the specific criteria that guided my selection and which I believe will greatly influence your choice.
Core Functionality
I analyzed and contrasted numerous renowned event management platforms, specifically focusing on their key event management features. To be considered for my list, they had to offer these core functionalities:
Event Registration: Enables the online registration process for attendees with features like online forms, ticketing systems, and payment processing (credit card, debit card, etc.)
Event Promotion: Allows for marketing and promotion of the event through various channels such as email, social media, or integrated websites
Attendee Management: Tracks attendee information, interactions, and provides networking capabilities
Event Analysis: Provides tools for post-event analytics, attendee feedback, and performance reports
Key Features
To offer the essential functions I previously mentioned, these are some vital features I believe should be included in an event management system:
Customization: Allows users to tailor the event interface and experience to align with their brand or event theme
Integration: Works seamlessly with other essential software like CRM, email marketing tools, payment gateways, and social media platforms
Live Interaction Tools: Includes features like Q&A, live polls, chat rooms, or networking lounges to facilitate attendee engagement
Scalability: The ability to handle events of varying sizes, from small meetings to large-scale conferences.
Usability
The user experience of an event management software system plays a significant role in its effectiveness. Here are the specifics:
User Interface: A clear and intuitive interface is crucial for event management software. Given the diverse tasks involved in managing an event, the software should provide an organized, easy-to-navigate dashboard where users can readily access various features.
Onboarding: The software should offer efficient onboarding tools like tutorial videos, user guides, or a knowledge base to help users understand its functionalities. It's even better if the software provides live customer support for onboarding.
Customer Support: Reliable customer support that's readily accessible through various channels like live chat, email, or phone is crucial. The nature of event management often involves time-sensitive tasks, so quick and efficient customer support is a must.
Event Management Software Frequently Asked Questions
What are the benefits of using event management software?
Event management software can bring multiple advantages including:
Streamlining event planning processes, from scheduling to attendee management.
Enhancing audience engagement through interactive features like live polls, Q&A, and networking tools.
Providing real-time analytics to help evaluate the event's success and areas for improvement.
Simplifying ticketing and registration processes, making it more accessible for attendees.
Offering integrations with other platforms such as CRM, email marketing, or payment gateways, creating a more efficient workflow.
How much do these event management tools typically cost?
Pricing for event management software can vary widely depending on the tool's feature set, the scale of events, and the number of attendees. Some tools offer a freemium model with basic features available at no cost, while others operate on a subscription-based model.
What are the typical pricing models for event management software?
Most event management software follows one of three pricing models:
Per event: You pay for each event you manage on the platform.
Subscription: You pay a monthly or annual fee for access to the software.
Freemium: Some basic services are free, but you'll need to pay for premium features or larger-scale events.
What is the typical range of pricing for these tools?
The pricing for these tools can range anywhere from free to several hundred dollars per month. It largely depends on the tool's feature set and your specific needs.
Which event management software is considered to be the cheapest and most expensive?
On the more affordable end, tools like Zuddl and Webex offer cost-effective solutions. On the higher end, platforms like Cvent and Swoogo tend to be more expensive due to their extensive features and capabilities.
Are there any free options available for event management software?
Yes, there are some event management tools that offer free options. However, these usually come with limited features and are often suited for smaller events. Examples include the free tiers or trials offered by platforms like Odoo Events and Eventzilla.
Summary
In conclusion, choosing the right event management software greatly depends on your unique needs, the size and complexity of your events, and the budget at your disposal. One crucial point to remember is that core functionality matters; the chosen platform should provide essential features like event planning, attendee management, ticketing, and real-time analytics.
Secondly, consider the user experience. The software should be intuitive and easy to navigate, allowing your team to seamlessly manage the event without excessive training or confusion. Finally, pricing is a significant factor. It's important to find a balance between the cost and the value the software offers, considering the pricing model that fits your event's scale and frequency.
Whether you're planning a small workshop or a large conference, there is an event management tool out there that can make your event a success.
What do you think?
Feel free to share any other event management tools that we may have missed. We're always open to learning about and exploring new resources.